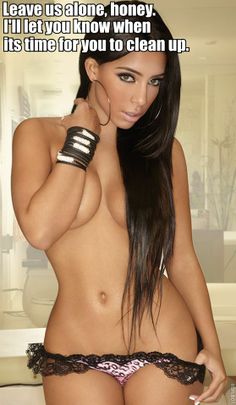 You likely have a small cock, don't you? Cuckold phone sex just might be for you. You know it's utterly useless for getting a woman off, masturbation is your best bet for an orgasm. You should consider becoming a cuckold. You could still watch your woman fuck, but she'd be fucking other guys, ones with bigger cocks that could actually make her cum. That nub that you've got going on is pretty useless, and many women have come right out and told you so, haven't they, of course they have. You seriously don't think some three inch dick is going to do anything for any woman, do you?
You like to think of a well hung man fucking your lady and making her scream with pleasure, you've never known what that is like, you're women have laughed, not screamed. They've told their girlfriends and maybe even taken a pic and sent them as you were snoozing beside them and they peeled back the covers and snapped a quick pic to show their friends that yes, it's actually true. You really are a tiny dicked loser and they know their friends can't believe it when they said you were so small. So there's the pics. Then one day she tells you she's been seeing another man, and his name is Tyrone and he has a ten inch cock and well, he's been fucking her and filling her up like no one ever has.
You think maybe you might be allowed to watch, might be allowed to fluff, might be allowed to be clean up boy. Relax, little one, you can do all that and much, much more! Think of the cum dripping from her used pussy that's been filled up with virile seed. Your wee wee is so fucking small, you probably have defective DNA and couldn't even breed if you tried. She will have a line of real men to satisfy her, don't worry, you will be getting lots and lots of cream pie very soon! Call for some cuckold phone sex soon and we will see just how pitiful we can make you feel.