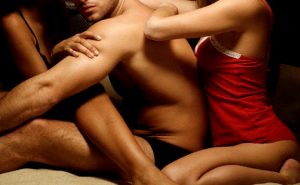 My boyfriend and I have been really craving to try a threesome. This good client of min that calls up weekly for his dose of taboo phone sex had a threesome last week he was telling me all about, which I in turn told my boyfriend about and that was it, he said we have to do this, so he started looking for a third person we could play with and he found one. Maybe not the best or most wise choice, but we really wanted someone and he asked this intern at his work. I doubt his boss would be happy about it, but he said she was really pretty and seemed a bit wild and she jumped right on it.
He brought her home and we had a few drinks to loosen up and it started from there. I'd been curious to taste pussy and I wanted this young girl as soon as I saw her, I slid my hand up her skirt and found her already wet. She was only twenty two and seemed eager to please us both. I rubbed her clit and it was already stiff and she was soon bucking against my hand and driving herself wild against my fingers and wanting my mouth on her. I didn't disappoint her. I got down on my knees on the floor in front of her and was soon buried between her thighs and all of a sudden felt my boyfriends mouth on me at the same time as I was licking her.
It was very sexy and my boyfriend licks me pussy so well, I was dripping in no time and greatly enjoying my first taste of pussy too. Eating and being eaten was a real double treat to be sure. She soon came on my face as I flicked her clit back and forth quickly with fast strokes and I on my boyfriends tongue, and then he fucked us both, one after the other and this fuckfest went on throughout the night. I think he will be asking her back as there is much left to explore with this pretty young intern. I sure hope his boss doesn't find out.