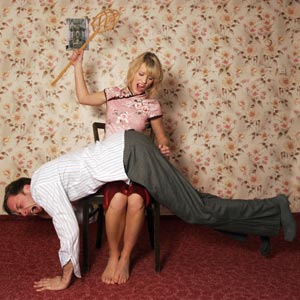 One common theme I've found in men that call for spanking phone sex is that mommy usually punished them when she caught them masturbating when they were young. This is a recurring story I hear time and again from men that like to be spanked. They were caught masturbating and it had a lifelong detrimental effect on them. If only these women knew the lifelong issues and fetishes they were setting in motion…
Some men want you to get really harsh with the, talk about using paddles and canes and all kinds of implements. Wooden spoons soaked in water, the back of a hairbrush handle, belts, switches from trees, all kinds of things. The getting caught element seems to have left an indelible mark on many. One caller used to have me yell, "GOTCHA!" randomly during the call, I'm sure his sicko mom did just that before she spanked the living hell out of him. Lots of guys have developed some kind of ritual of actually spanking themselves with some kind of tool and I can hear them walloping themselves and some even ask me to keep count and I count out loud as they smack themselves.
Some however want a lady to do the spanking and will even hire an escort to do it to them. They seek to relieve the humiliation of the event and will go to quite extreme lengths to make it happen. Ones seeking spanking phone sexare for the most part submissive. Once in a while you get a dom that is looking to spank me and that is totally fine, I will bend over for you, Sir, no questions at all. My ass is yours to punish with your palm, Sir! Spanking has its fans no matter which person is being spanked. So if you need a good, old fashioned bare bottom spanking, I am sure one of the girls here will be happy to help you!