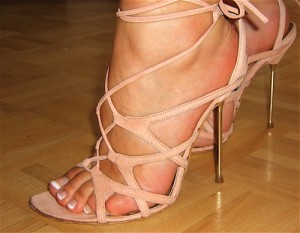 Do you find yourself fantasizing about feet and toes? Lots of phone sex callers do. One called last night masturbating away as he described in detail how his new girlfriend had just given him his first foot job. He's always admired a lovely pair of feet, but hadn't paid much mind to them otherwise, but this young lady had a bit of a foot fetish herself and enjoyed giving them.
She came for their date to his house wearing some black stockings with seams up the back and some black stilettos and a tight dress and his cock was rock hard as soon as she took off her coat. Her breasts were practically overflowing out of her push up strapless bra she had on that was under her dress. He could see her stiff nipples making little points under her dress and the dress had a slit up the side and he just saw the tops of her stockings and as the evening wore on she kicked off her shoes and slid her feet into his lap and started squishing his cock and balls through his pants with her stocking covered feet.
He unzipped his pants and got out his cock and she started working her feet up and down his shaft that was starting to leak pre cum and the drips of it soaked into her stockings and she gripped his cock with her toes and clenched them around it and started pumping it in earnest until he blew his creamy load all over her feet and toes and he hasn't been able to stop thinking about it since. It's been driving him crazy to think about this happening again and he can't wait to feel her bare feet all over his dick. They have a date tomorrow night. He came two times with me on the phone telling me all about this, it's his new fetish and he can't wait to explore it.