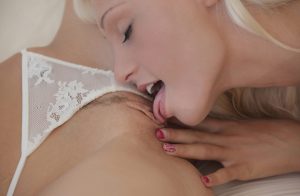 Let me tell you about the first time I ever licked another girls pussy. I can't say it was one of my prouder moments, but you know what, stuff happens. I was at this party right after I started college and to be honest, I was horny, hadn't gotten laid in months and this girl that was also horny came onto me. She and I were on this sofa in this empty room, most of the guests had either left or passed out or wandered off to the bedrooms of the house the party was in.
She started kissing me and I didn't really stop her. Our tongues felt so good together, it got pretty hot, pretty fast. Passionate kissing and then her hand wandered up under my skirt and she started toying with my pussy lips through my panties, which were quickly becoming damp. My clit was stiff and she pushed her hand into my panties and started to massage it and drive me crazy, then she asked me if I'd ever been eaten out by another girl and I said no, then she asked if I'd like to try it. I have to say, I was curious to see if there was a difference between a woman going down on you and a guy.
I said I'd like to try it and she knelt down on the floor in front of me and pulled my panties down and my skirt up and her face was just buried between my thighs and boy, did she know what she was doing! I had my knees over her shoulders and my hand on the back of her head and was bucking my hips upwards getting her face all wet. She sucked and licked my clit until I thought I'd go wild and when I came, I was biting my lip so the others wouldn't waken and hear me it was so intense. She let me rest about 5 minutes before she resumed licking and gave me another fantastic orgasm. She licked better than any of the guys I'd been with, I can tell you that.