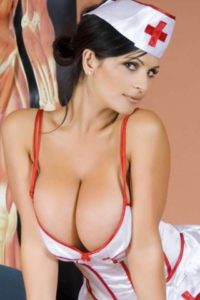 When a man is looking for medical fetish phone sex, he usually has a few ideas to run with. He might be looking to get it on with the lady doctor, or the hot nurse, who just might have to help him with the sperm collection portion of his exam. Some medical fetish guys are also small penis victims, and they want the doctor or nurse to measure, photograph, talk about how small it is, possibly bring in more doctors and nurses to look at how pitiful it really is. Sperm collection and prostate massage are also big, they have to get a sample to test the sperm quality.
Others looking for medical fetish phone sex go down the impregnation route, they often have elaborate fantasies of impregnating patients with their own sperm, or helping in some way as people are conceiving. Others still have fantasies about being doctors themselves and like to talk you through an entire exam, from taking your blood pressure to doing a full pelvic, to graphically discussing your menstrual cycle. Some operators are ok with that, others are not. Many prefer clinical terms such as penis and vagina rather than the slang cock and pussy.
Some have imagined being women themselves and wanted to discuss me giving them a pelvic exam, which always seemed a little odd, but it's what some like. One man called and told me how he used to get hookers, but not to fuck them, he went with his own medical bag and tools and used to like to give them pelvic exams in the hotel rooms he'd take them to, he never had sex with any of them. Medical fetish is an interesting one since there's several different ways a call can go, all you do is ask the operator of your choice if they are comfortable having such a conversation before purchasing your call. So if this is your kink, by all means let us help you out today.