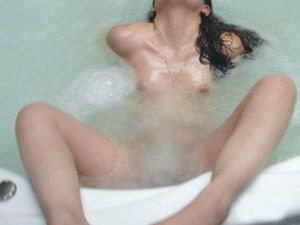 I've always loved to masturbate with water, I've done so in friends pools many times against the hot tub pool jets and been totally undetected in doing so. I was at the health club recently and did the same thing there. No one was around, it was in the women's change room area and I had privacy. The showers were nearby and ones would have had to go by the hot tub if they were on there way there, but no one came by luckily.
I decided to really take advantage of it and called my boyfriend on his cell phone and tell him what I was doing, he laughed at my boldness, he couldn't believe I was actually doing this where someone could walk by at any minute. I said the bubbles in the water covered everything, nothing could be seen, as long as I could control the expression on my face and any moaning sounds, no one would know what was going on. I could feel the pulsing water and millions of bubbles teasing my clit as I was pressed practically against the water jet and could feel the orgasm welling up inside of me as my boyfriend was talking to me and he said he could tell from my breathing I was getting close and he said how much it turned him on I was doing this.
I said I wasn't worried and all of a sudden I came. I kept quiet, but bit my lip and closed my eyes. Then I was catching my breath. He said as soon as I got home he was going to fuck me hard and I wouldn't need to be quiet like I just had been. I then heard movement as someone came in and I said goodbye and got up out of the hot tub and went into the shower to wash all the chlorine off of me before going home to my horny boyfriend, who'd been stroking his cock the entire time he'd been talking to me as I came right there in the hot tub. It was one fun and not quiet night when I got home!
Want to hear more? Ask for Madeline.